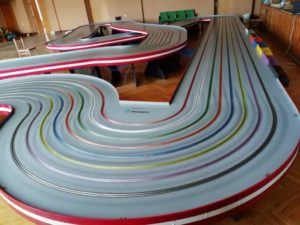 ISRA – International Slot Racing Association  -15 luglio alle ore 12:40 ·
It is with regret that we announce today the postponement of the 2020 ISRA Worlds that was to be held in Latvia in October 2020. This event will now be moved to 2022.
There are no changes to the 2021 event to be held in the USA.
A few months ago in the early days of the worldwide Covid-19 pandemic we, like many other organizations felt that by June the world would have returned to some normalcy, but here we are in mid July and the picture going forward is less clear than ever, with many countries having travel bans and strict quarantine regulations.
Taking all this into consideration, and wanting ISRA racers to have as much time as possible to confirm their plans, we have today decided with Janis Nabokins, the ISRA Board and with input from the ISRA Delegates, that the 2020 event will not go ahead as planned this year, but that Janis will host the 2022 ISRA World Championship event in Latvia. Those countries that were thinking of, or had already expressed interest in hosting the 2022 event will now be bidding on the 2023 event.
ISRA thanks Janis Nabokins for all his efforts throughout this process , and the flexibility he has offered us in terms of hosting an event and the changes of plans we have had to consider. Organizers are the lifeblood of ISRA and as a group we all need to support them.
In place of the ISRA event in October, Janis is planning on holding a European Championship race open to all. With this event all those that are able to travel and wish to race in a big event in October can. Details will be released as soon as they are confirmed, and I urge all racers that can and are willing to travel to support the event.
Chris Radisich
ISRA Chairman.